Pneumatic Liquid Level Controller
YTS HLC Liquid Level Controller is a pneumatically controlled system designed to automatically start and stop an Air Operated Double Diapgram Pumps when the liquid level within a tank, container or any other reservoir reaches predetermined High or Low level.
YTS Liquid Level Controller can control and maintain liquid level anywhere from a few centimeters to many meters in depth. Sensor tubes can be customized (cutted) to the required length. They are available in different plastic and metall alloy materials to be chemically resistance to the liquid.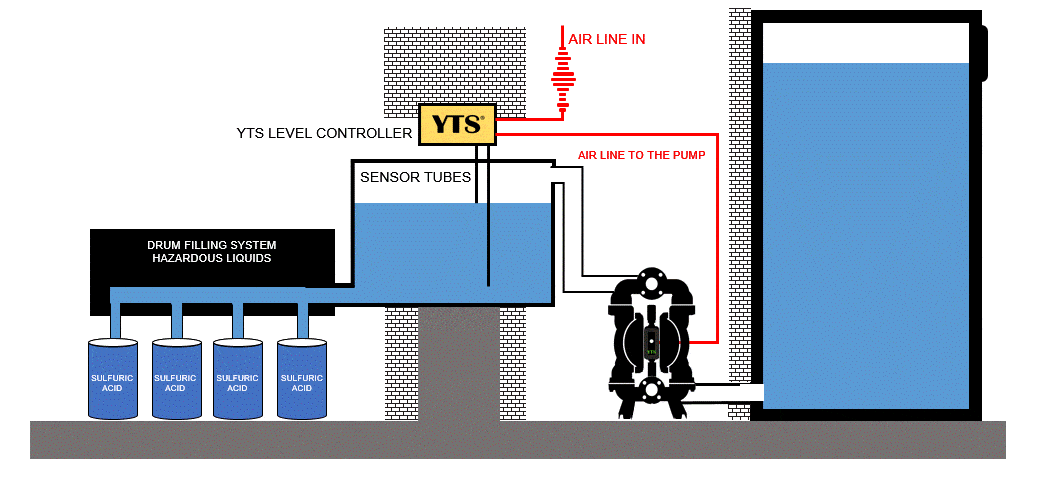 YTS Level Controller is extremely safe – there is not electrical elements . Its operation is fully pneumatic, based on air logic control valve.
Level Controller can be used in wide range of applications, with almost all kinds of fluids and it can be installed outdoor. It can be incorporated in any pumping system. Controller can be integrated with any size or model of YTS pump.
As the liquid level within the tank rises or falls, the tiny changes in air pressure are conveyed to the air logic control valve through High and Low level dip tubes.
When the predetermined liquid level is reached, the air power valve mounted inside the Level Controller, that supply pressurize air to the Diaphragm Pump is turned ON or OFF as required.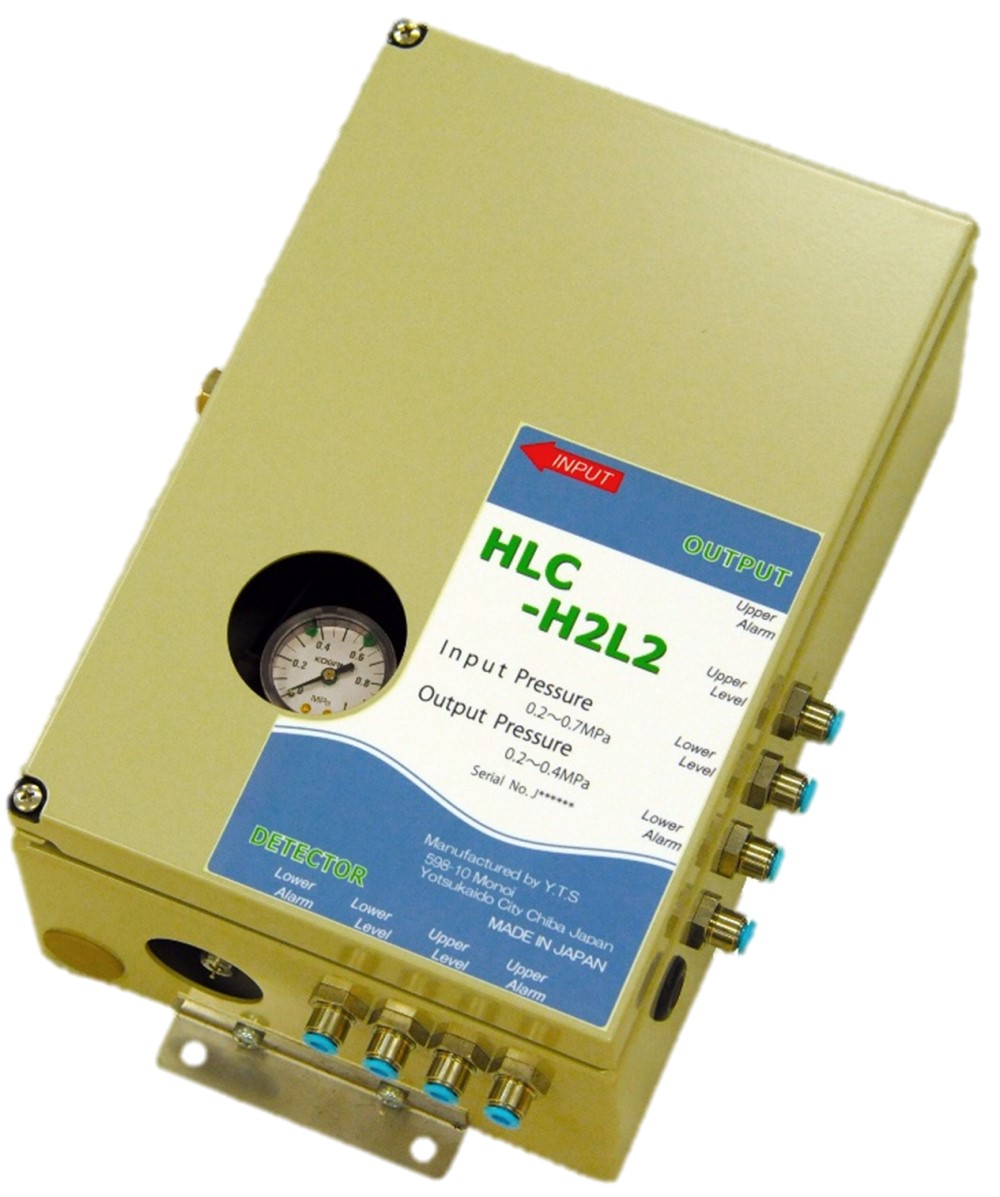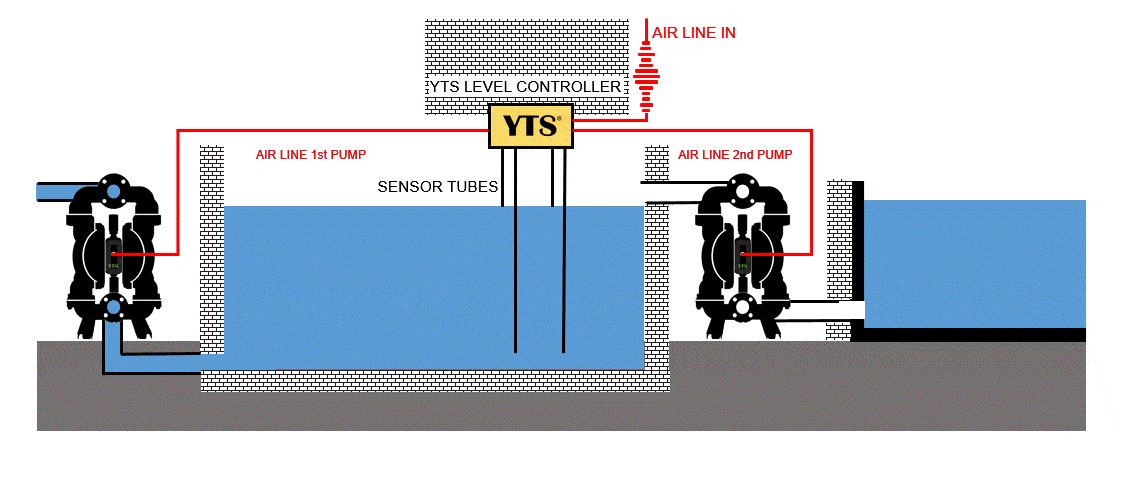 Working with one pump, Level Controller automatically controls the filling or emptying of a tank.
Technologically advanced, YTS Pneumatic Liquid Level Controller is capable to control more than one pump at the same time.
Working with two separate pumps, HLC Liquid level Controller will control both processes, filling and emptying of the tank. Installed with pumps larger than 1″ Pneumatic Level Controller is used in conjuction with externally mounted Power Valve and a second filter regulator. This enables to supply increased volume of air to secure pump's desired high capacity.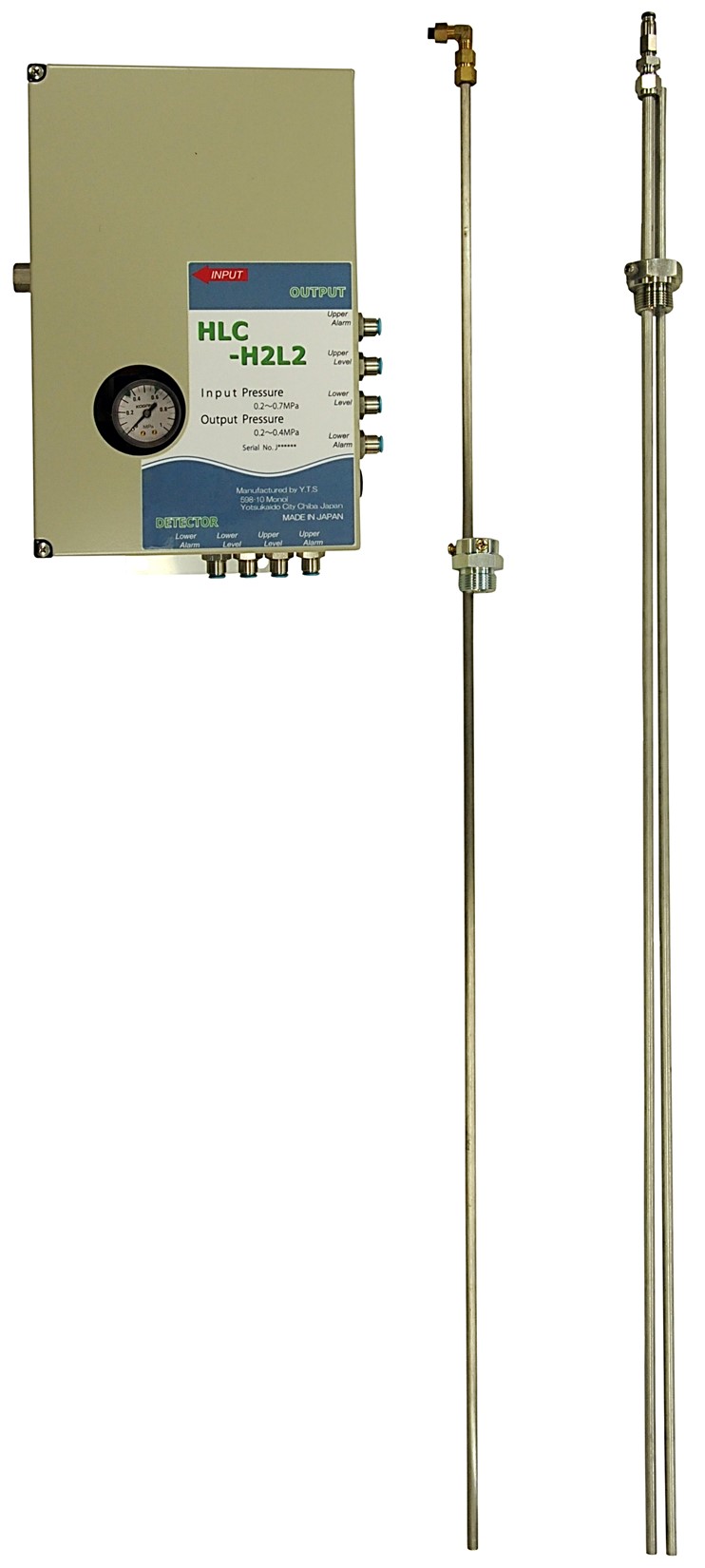 BELOW BOTH
HIGH AND LOW
DIP TUBES


FILLING PUMP ON
EMPTYING PUMP OFF


BELOW HIGH
DIP TUBE
ABOVE LOW DIP TUBE

FILLING PUMP ON
EMPTYING PUMP ON


ABOVE BOTH
HIGH AND LOW
DIP TUBES

FILLING PUMP OFF
EMPTYING PUMP ON

BELOW HIGH
DIP TUBE
ABOVE LOW DIP TUBE

FILLING PUMP OFF
EMPTYING PUMP ON
There are four models of YTS Pneumatic Level Controller HLC:



HLC – H1L1


High Low Level Controller


HLC – H2L2


Duel High Low Level Controller with Pneumatic Alarm


HLC – H1L0


High Level Controller
HLC – H0L1
Low Level Controller
YTS Pump Engineering B.V.


Logistiekweg 26,




7007 CJ Doetinchem,




Netherlands