Advantages of Double Diaphragm Pumps
1. ABILITY TO RUN DRY
Because there are no close fittings, turnings or sliding parts, a Diaphragm Pump can run dry without damage for extended periods of time. However, is not recommended to dry run constantly or for long periods, due to unproductive energy consumption and consumption diaphragm (also other parts) stroke life. Other than unnecessary costs, there is no danger posed to the pump.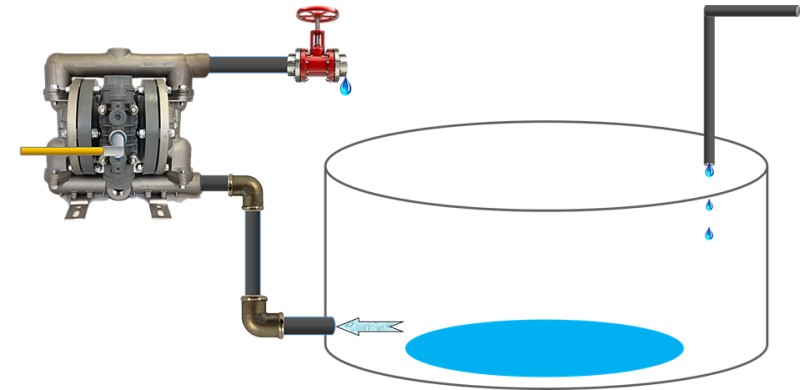 2. SELF PRIMING
During start up a Double Diaphragm Pump generates its own suction pressure and is able to self-prime without the use of special equipment or special start up procedures. Diaphragm Pumps are also able to achieve a high level of both Wet and Dry suction lift. Diaphragm Pumps have some of the strongest lift capabilities of any kind of pump made.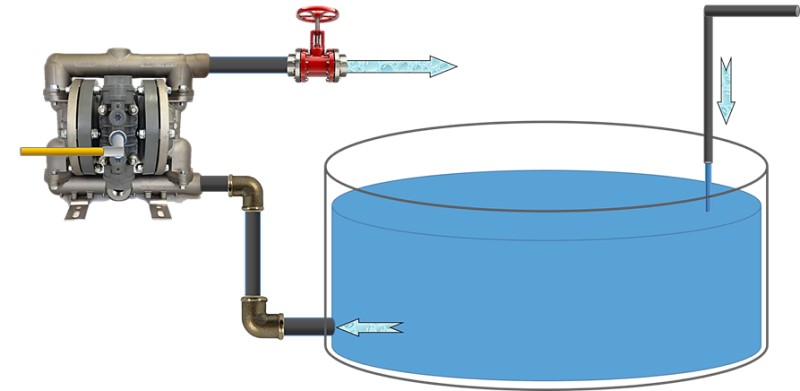 3. DEAD HEAD
The discharge line may be closed fully at any time and repeatedly without damage or wear to the Diaphragm Pump. There will be no power consumed and no temperature increase. The Diaphragm Pump will simply stop. Discharge pressure cannot exceed air pressure so there is no need for a pressure relief system.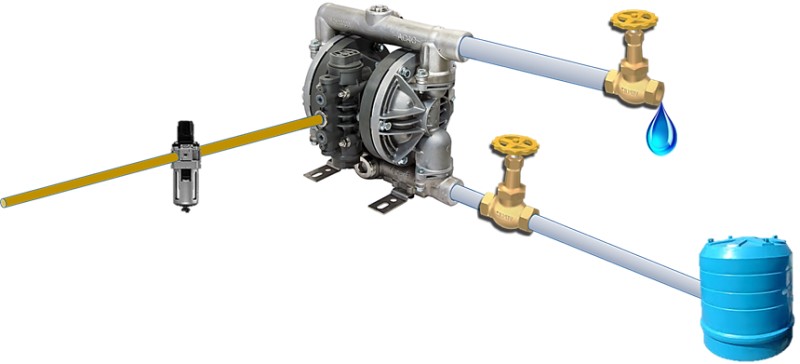 4. CAN HANDLE VAST VARIETY OF CHEMICALS
Diaphragm Pumps can transfer a huge range of chemicals including most types of acids, alkali's, solvents, petrochemicals or even just water.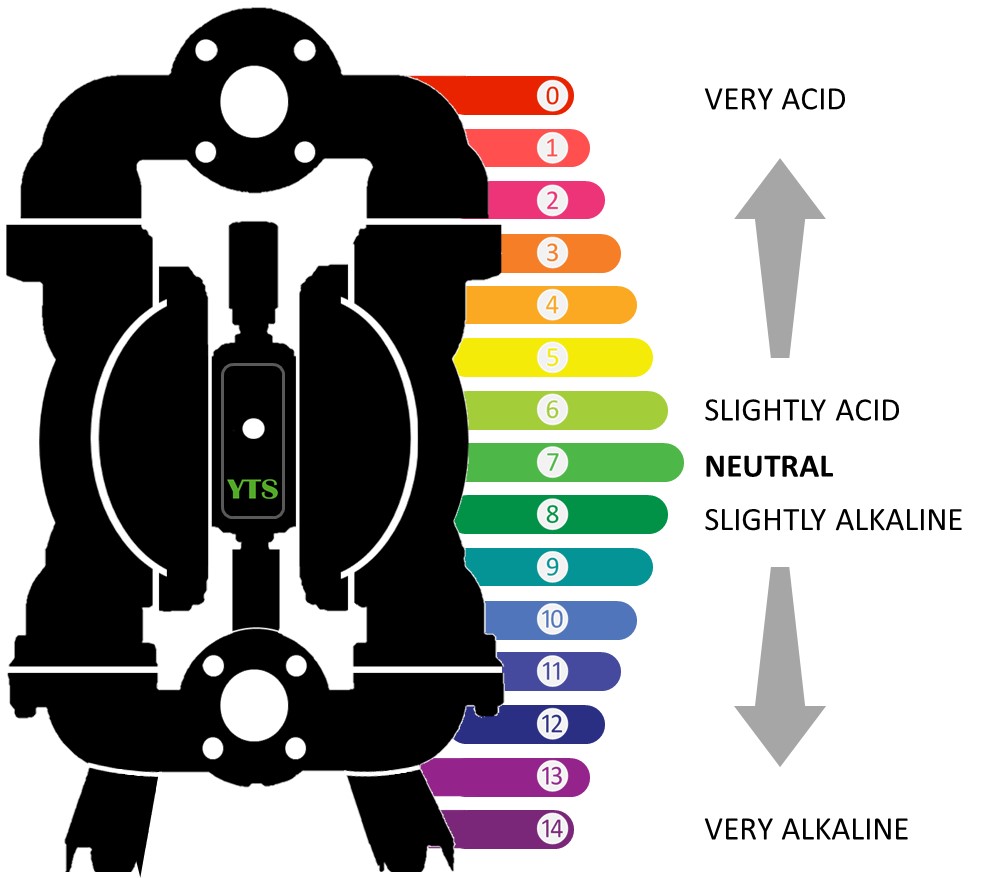 5. CAN PUMP VISCOUS FLUIDS
Diaphragm Pumps produce a relatively high discharge pressure and are able to move viscous fluids like oils, syrups, liquid resins, inks, glues, paints, pastes, etc.
6. CAN PUMP HIGHLY ABRASIVE  LIQUIDS, PARTICLES AND LIQUID SLURRIES
There are no internal seals, rubbing or rotating surfaces so abrasive liquids with high solid percentage and large size of solids can be pumped easily. Diaphragm Pump can handle liquids that are not perfectly filtered – liquids with a residue of solid particles such as small stones, animal bones, crystals, sand or slurries. Large sized solids will pass just through the pump. Many types of liquid granulate can be pumped. Inks, paints, polish, caulking compounds, etc. can be pumped with ease.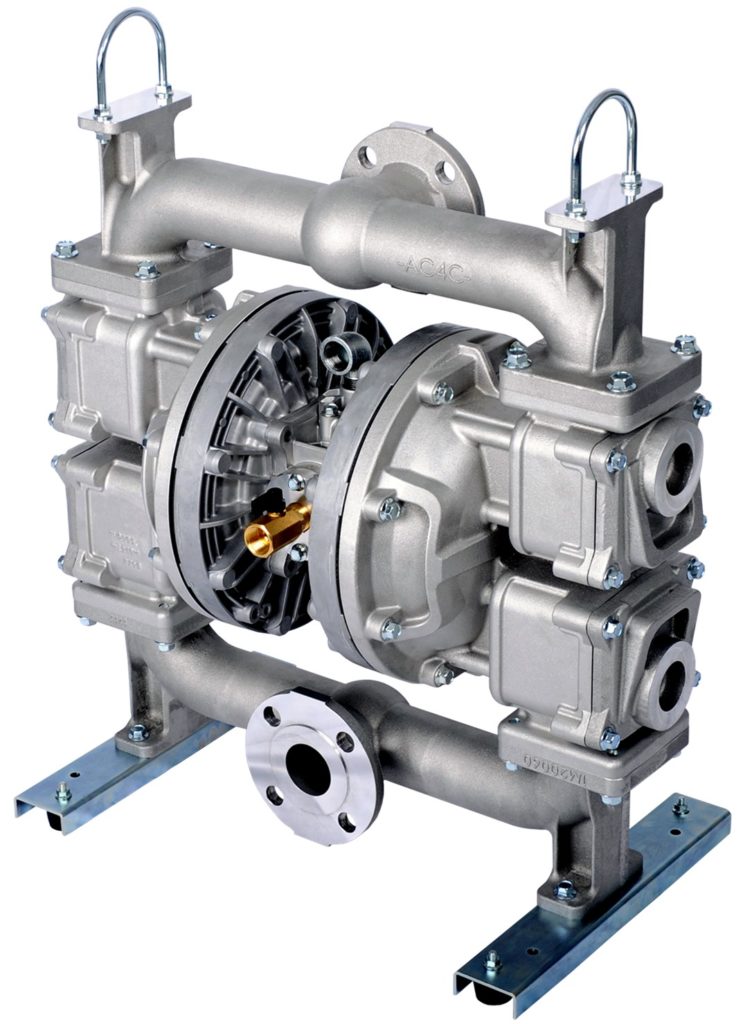 7. CAN PUMP CERTAIN POWDERS
Standard Diaphragm Pump can be easily modified to the Powder Diaphragm Pump. Powder Diaphragm Pumps are able to transfer many types of powders.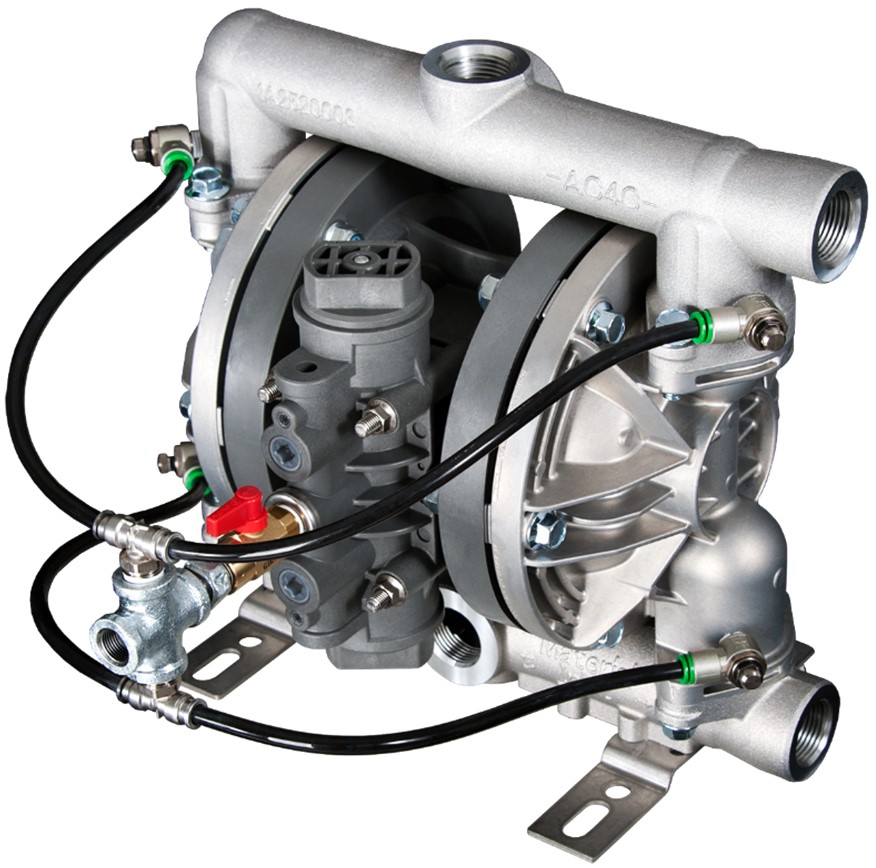 8. PUMPING EFFICIENCY REMAINS CONSTANT
Diaphragm Pumps do not have any fitting parts, rotors, gears, or vanes exposed to the liquid and so do not wear out over time which normally leads to a gradual decline in pumping performance.
9. HIGH START-STOP EFFICIENCY
Compared to similar sized electrical type pumps, when used in constant start stop applications a Double Diaphragm Pumps actually offers a high level of pumping efficiency.
10. CAN NOT OVERHEAT
Diaphragm Pumps do not have electric motors and are cooled naturally during operation by the supply of compressed air, natural gas or Nitrogen.
11. VARIABLE FLOW RATE AND DISCHARGE PRESSURE
By adjusting either the air inlet pressure or opening or closing the discharge valve it is possible to operate the pump anywhere between 0,1 liters per minute to full capacity. Discharge pressure is also changed according to air pressure (air pressure = fluid discharge pressure).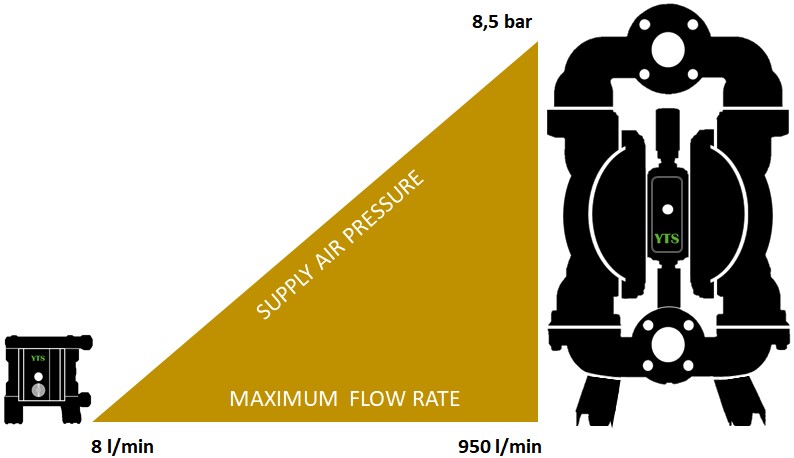 12. SHEAR SENSITIVITY
Due to the gentle nature of operation, Diaphragm Pumps are one of the best choices for shear sensitive fluids like wine, milk or ink. Also, they are a perfect choice for pumping reactive fluids such as detergents, shampoo or UV Ink.
13. HIGH-PRESSURE CAPABILITIES
Modified Diaphragm Pumps with a 2:1 pump air compress ratio are capable of producing close to 17 bar discharge pressure. 2:1 High Pressure Diaphragm Pumps are excellent for filter press applications.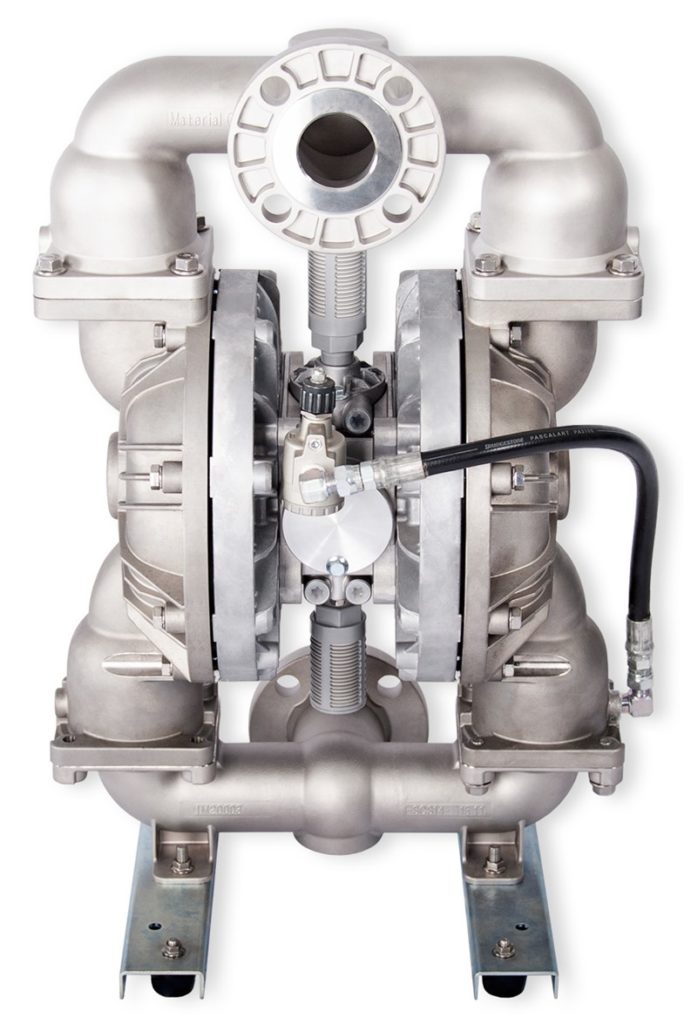 14. SUBMERSIBLE
Diaphragm Pumps can be fully submersed in the liquid being pumped as long as the pump is chemically compatible. Submerged AODD pumps must have an extra air hose attached to the exhaust port. This extra hose from the exhaust port must end above the liquid level.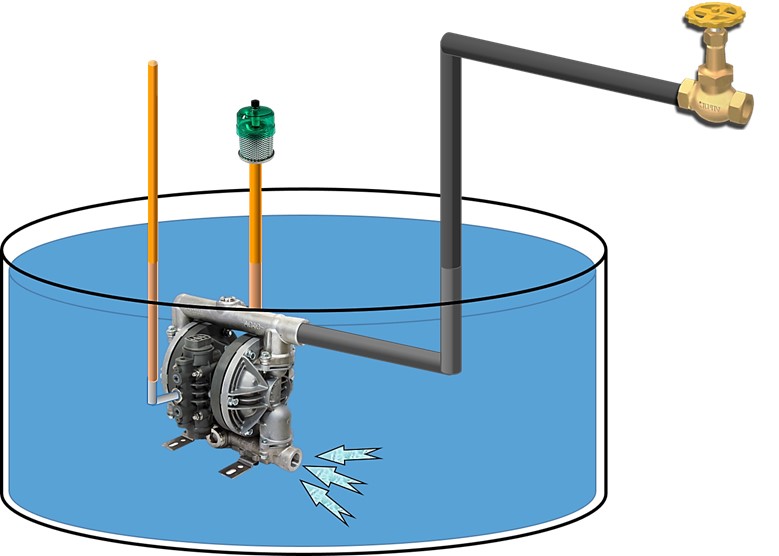 15. CLEAN PROCESS PUMP
Diaphragm pumps can be installed into most food, drink and pharmaceutical applications. They are commonly used during manufacturing processes in Clean Rooms.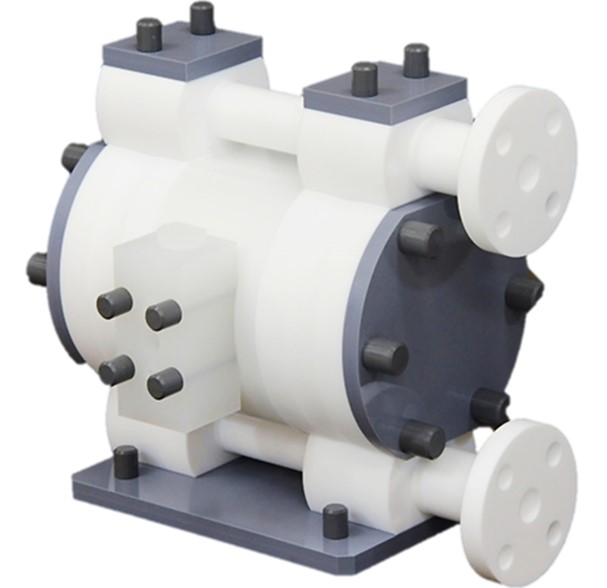 16. SAFE, EXPLOSION PROOF
Air Operated Double Diaphragm Pumps use compressed air to operate and do not require any other electrical source and can be fully earthed. They can be used safely to pump all types flammable liquids or used in explosive environments (ATEX).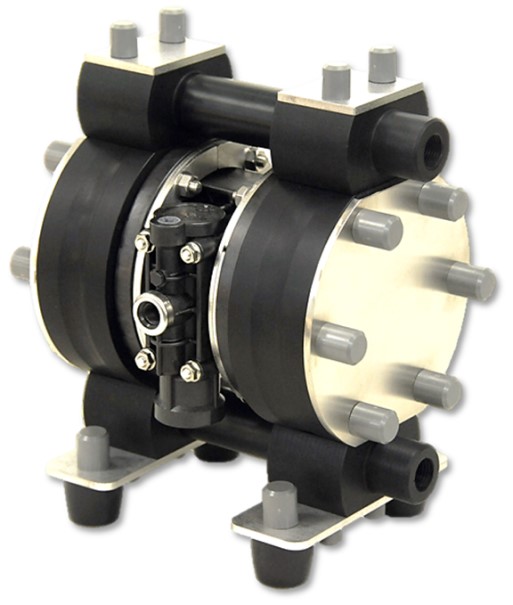 17. NO MECHANICAL SEALS, COUPLINGS, OR MOTORS
This eliminates the majority of leaks and costly maintenance associated with other kinds of pumps.
18. SIMPLE MAINTENANCE
In comparison to other types of pumps, the Diaphragm Pumps are easy to maintain. They have very few moving parts. They have no special seals or gears or electrical motor. They can be easily dismantled.
19. SIMPLE  INSTALLATION AND OPERATION
By simply connecting air supply line and liquid lines Diaphragm Pump is ready to work. It is not necessary to mount or fix the pump in place. There are no complex controls, fittings or motors to install and operate. Start and stop the pump with either an Air Valve or air regulator or even a liquid valve.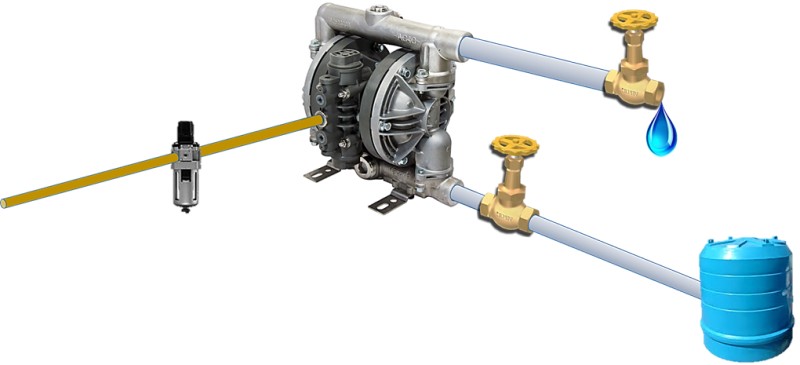 20. PORTABLE
Air Operated Double Diaphragm Pumps are compact, lightweight and fully portable. They can be operated in almost any work site or environment.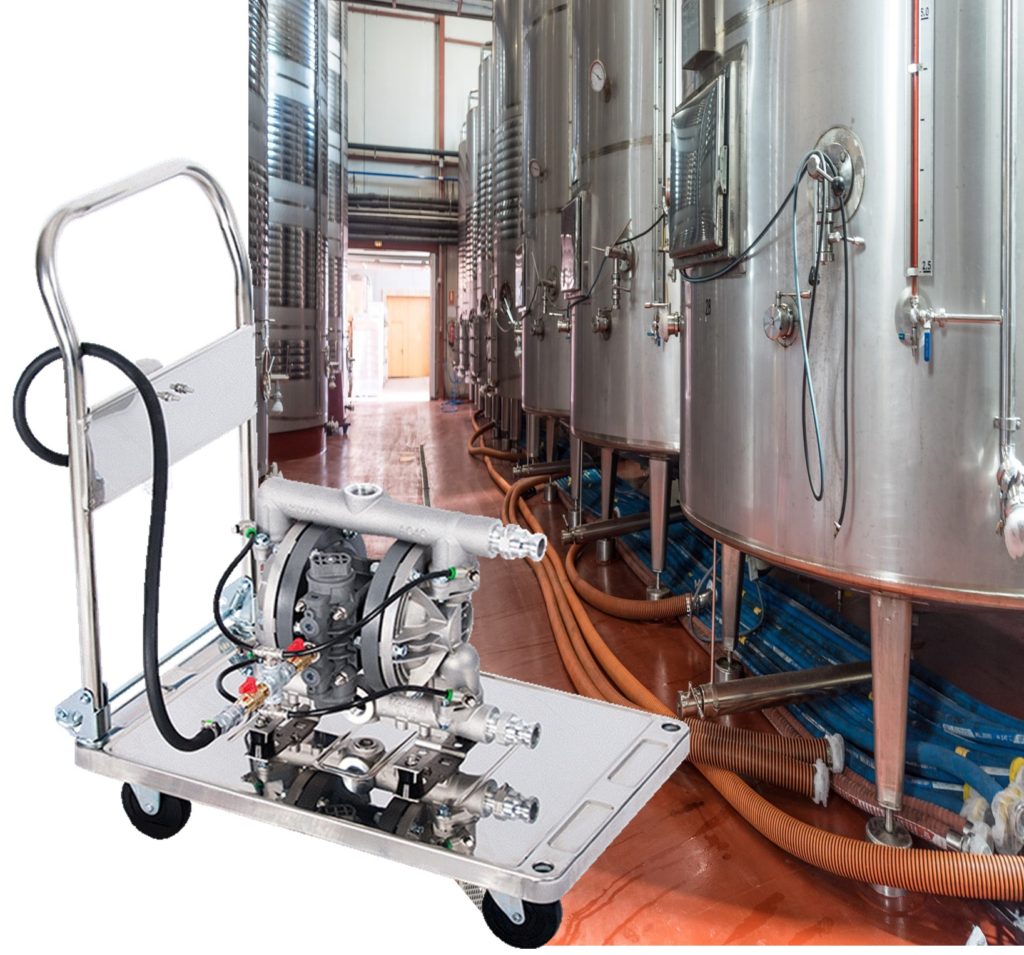 21. INEXPENSIVE
Compared to other similar performance pumps, Air Operated Double Diaphragm Pumps are often cheaper to purchase and are easy and inexpensive to operate and maintain. Using a Diaphragm Pump can cut down on the "Cost of Owning a Pump". This feature alone is a major reason to choose Diaphragm Pump over many another kind of pumps.
YTS Pump Engineering B.V.


Logistiekweg 26,




7007 CJ Doetinchem,




Netherlands